Wahoo KICKR
The Wahoo KICKR Smart Turbo Trainer is the official trainer of Team Sky, producing the ultimate training experience.
Its high inertia flywheel is engineered to replicate the feel of riding outside.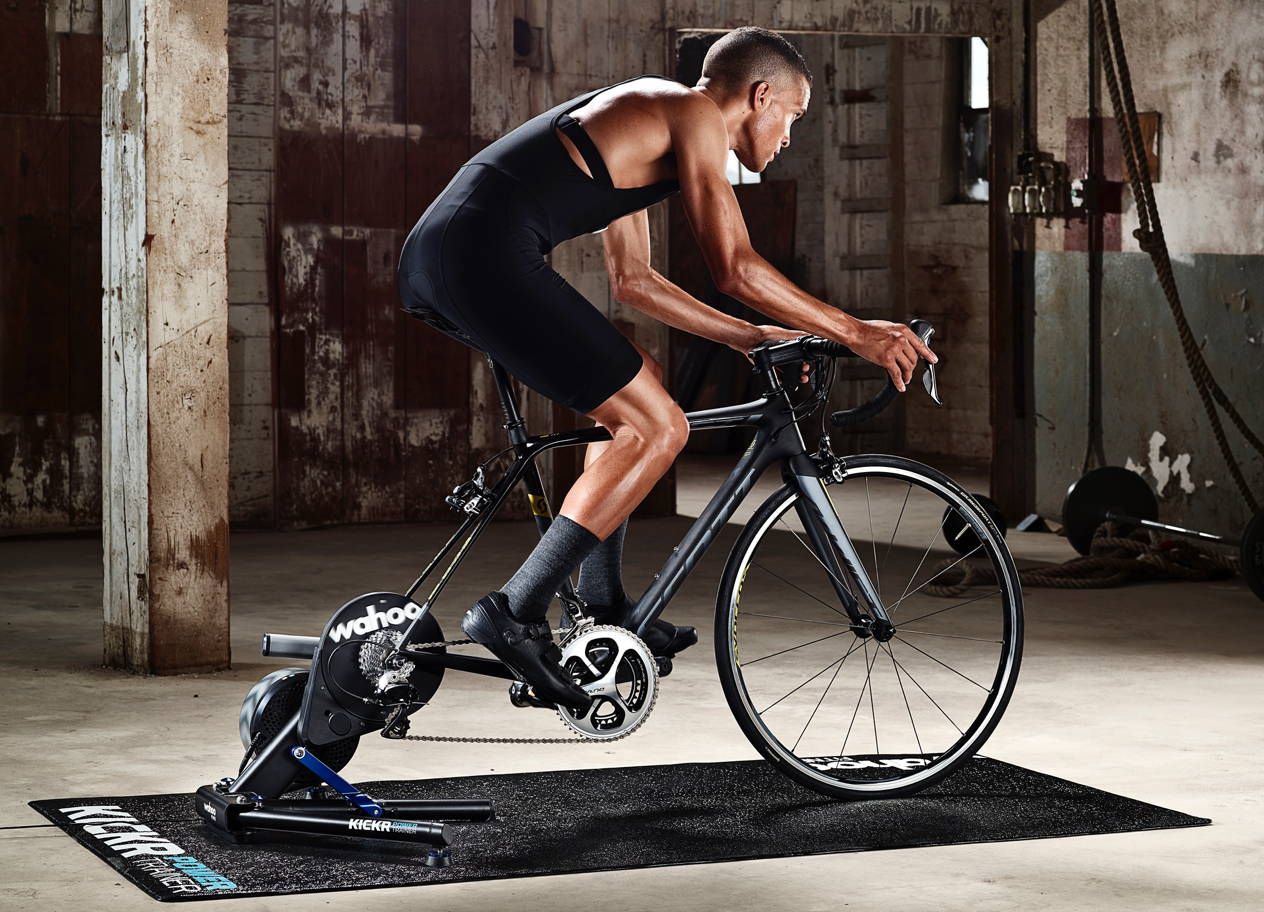 Building on the proven success of Wahoo's line of KICKR Smart Trainers, the new 2018 edition delivers a virtually silent experience and a specially engineered, heavier flywheel to provide cyclists with the exact inertia they need to recreate the feeling of riding outdoors.
The KICKR continues to provide the best in class indoor smart trainer design with carbon steel body for the durability.
The KICKR includes an 11 speed cassette for easy setup and an RPM cadence sensor.
NEW! VIRTUALLY SILENT OPERATION
The KICKR's new design offers an ultra quiet riding experience.
NEW! OPTIMIZED FLYWHEEL
KICKR's new larger and heavier flywheel was specially engineered to provide riders with a more precise inertia needed to recreate an outdoor ride feel while training indoors.
KICKR CLIMB COMPATIBLE
Wahoo's KICKR CLIMB indoor grade simulator was designed in conjunction with the KICKR smart trainers to deliver a unmatched indoor training experience when combined.
KICKR HEADWIND COMPATIBLE
KICKR HEADWIND was designed to deliver innovative climate control to your indoor training experience.
THRU AXLE COMPATIBLE
The new KICKR features 12x142 and 12x148 thru axle compatibility in addition to standard 130/135mm quick release. Click to find out if your bike is compatible.
DISC BRAKE CLEARANCE
An update to the main mast ensures clearance for flat mount and disk brake equipped bikes.
+/- 2% POWER ACCURACY
Enhanced power accuracy to provide accurate power measurement and generate up to 2200W.
20% MAXIMUM GRADE
Maximum percent grade adjusts to simulate up to a 20 degree incline.
PROFESSIONAL GRADE DURABILITY
Robust steel construction ensures the KICKR stays in place while you crank out the watts and stands up to years of heavy use.
CONTROLLED RESISTANCE
When connected to your device, it automatically sets your resistance via your favorite app or software
REALISTIC RIDE FEEL
The KICKR flywheel is innovative and proven technology emulates the power and inertia experienced during outdoor riding. It provides the most realistic ride feel especially when using virtual riding/training platforms like Zwift and Trainer Road.
MEASURES SPEED, DISTANCE, POWER, AND CADENCE
Get all your vital cycling metrics on your indoor ride. Cadence only available when paired with a Wahoo RPM Cadence Sensor that is included.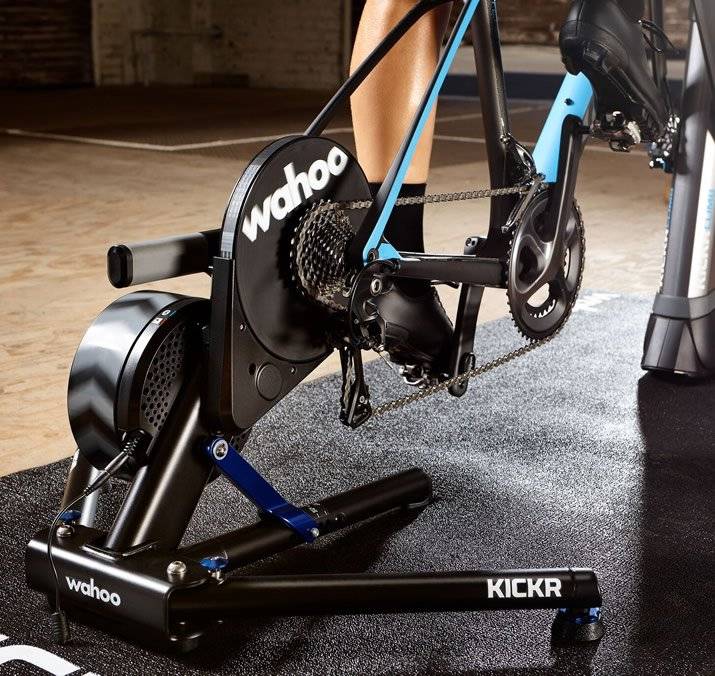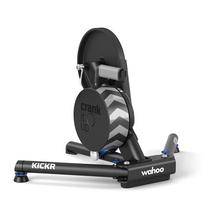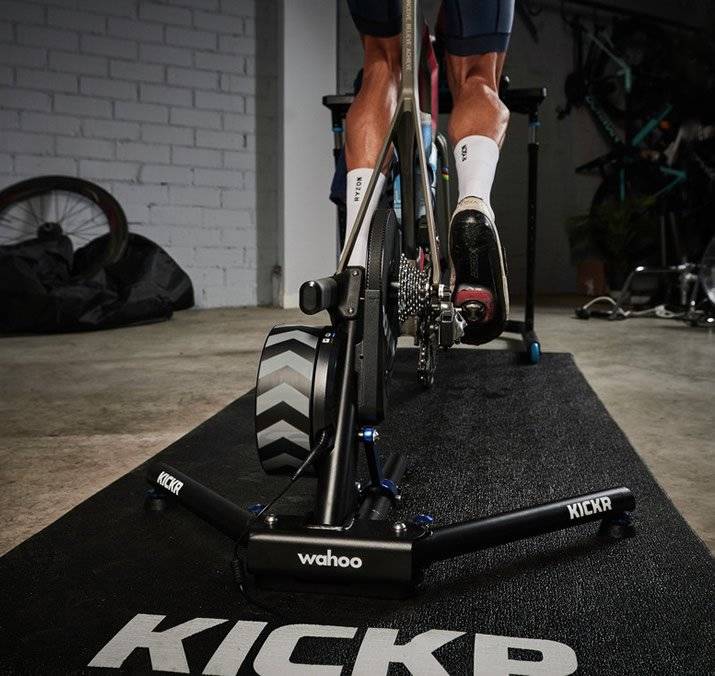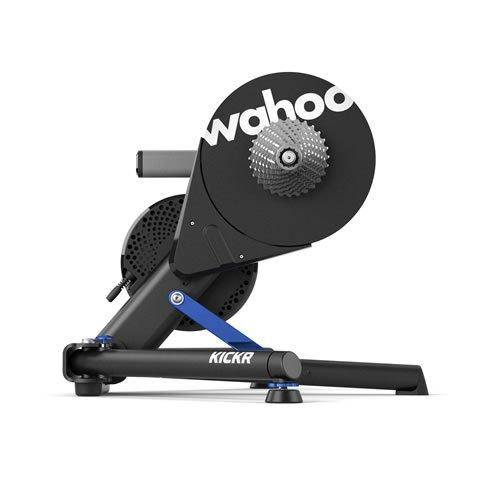 The Wahoo KICKR is the official trainer of Team Sky
Vital matrics. Measure speed, distance & power
Fitting instructions and return instructions
The longer you rent this turbo trainer for, the cheaper the monthly rental.
*all bookings are subject to a £100 security deposit which will refunded upon return of the trainer.
HOW DOES IT WORK?
Place your order online and pay for your first month's rental.
We will then invoice you for the security deposit (£100) and shipping (£20).
We will deliver the trainer to your nominated address.
Subsequent rent will be charged every month until the end of your chosen rental period.
Your rental will continue until you notify us that you wish to terminate the rental. We require at least 1 week's notice to terminate the rental.
DELIvERY & COLLECTION
We will arrange for your chosen trainer to be delivered on the first day of your hire. Your trainer will arrive safely boxed up with protective packaging.
Please keep the box and its packing safe as you will need this to package the trainer back up.
On the last day of your hire we will arrange for the trainer to be picked up from you. Please have the trainer packed up and ready to go.
Dont worry all delivery and collection costs are included in the price.